Awards & Recognition
Award «Best for the World» 2022 from B Lab International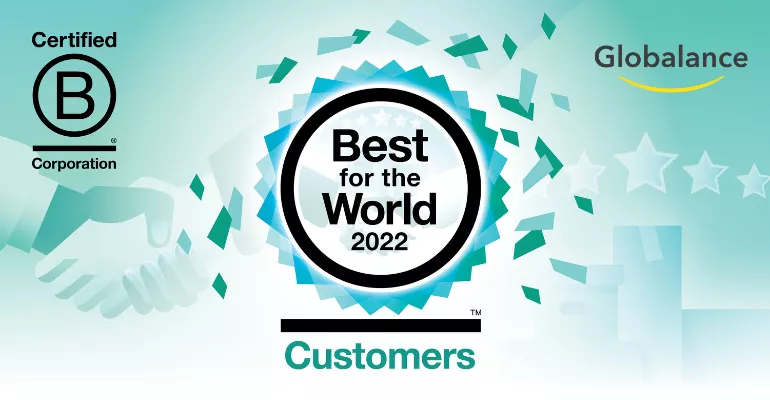 Out of 5,000 Certified B Corporations worldwide, Globalance is among the top 5% B Corps in the Customers-impact area.
Recognized are the top-performing B Corps creating the greatest positive impact through their businesses. More than a badge of honor, «Best for the World»™ provides an opportunity for recognized companies to share knowledge, learnings, and best practices with the B Corp community and businesses outside of the community to encourage innovation and transformation across the business sector.
The «Best for the World» recognition is administered by B Lab, the global nonprofit network that certifies and mobilizes businesses that meet high standards of positive social and environmental performance, accountability, and transparency, so called B Corps. Today, there are more than 5,000 B Corps across 80 countries and 155 industries, unified by one common goal: building an inclusive, equitable, and regenerative economic system.
Globalance is certified as a Benefit Corporation since October 2015. To receive this award already for the fifth time is truly an honor and motivates all employees to go the extra mile. We would also like to thank our customers for the trust they place in us – only with this joint effort we can make the world a better place.
Read more about our forward-thinking and sustainable approach to investing.