Awards & Recognition
BILANZ Private-Banking-Rating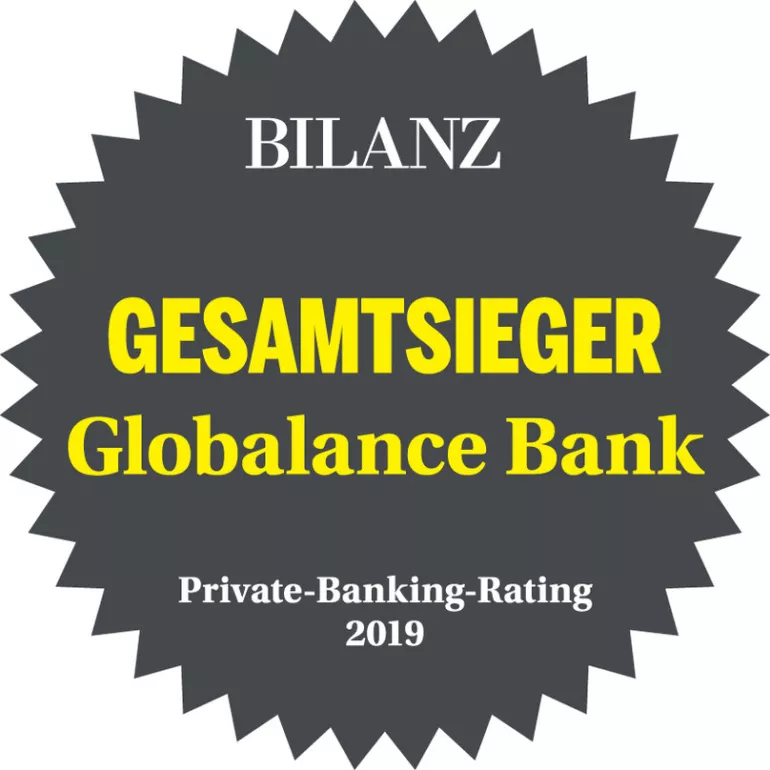 For the 11th time, BILANZ has been looking undercover for the best Swiss bank in Private Banking. Globalance Bank has prevailed before the jury as the best private bank and overall winner of the rating.
Almost 100 competitors, 6-month continuous undercover test, 60 criteria, 17 finalists and a high-calibre jury chaired by finance professor Thorsten Hens: Globalance Bank came first in this year's BILANZ rating.
«"Globalance has a different view of things. It thinks about where the world goes and which companies benefit from that change."»

Jury member
After successfully establishing SAM (Sustainable Asset Management) in 1995, the world's first asset manager for sustainable investments, we launched Globalance in 2011 with a new idea in private banking: We want to make the best possible investments in future-oriented investments in a positive future and thus achieve a double return – both financially and ideally.
Now BILANZ, one of the youngest banks in Switzerland, has awarded us the title of leading bank in private banking in an elaborate test. How were we able to prevail against traditional and long-established banks? With future-oriented investment strategies, entrepreneurship, digital innovations such as the Globalance Footprint and above-average customer service.
We are proud to have won this prestigious rating. But we also know who we owe this success to: our clients, who place their trust in us, and our employees, who work for us with all their passion.

The BILANZ Private-Banking-Rating 2019
The test is carried out "undercover" and over half a year. Only at the final presentation do the finalists learn that the "customer" is the business magazine BILANZ. This is how the test was done:
1. Request: Nearly 100 banks are contacted. The "customer" describes his situation and requests a written and detailed investment proposal including costs.

2. Pre-selection: The jury selects the 17 best proposals.
3. Analysis: The Institut für Vermögensaufbau (IVA) in Munich examines the 17 finalists under 60 different criteria. Points can be scored for example with customer understanding, transparency of product implementation, risk profile, risk education and costs.
4. Award: The top-class jury chaired by finance professor Thorsten Hens selects the best banks.
5. Winner: We are delighted with the title of "Best Private Bank" and the overall victory as "Best Swiss Bank in Private Banking" and would like to thank all our clients and employees.