News & Trends
Achieving the Goal with Real Design for the Future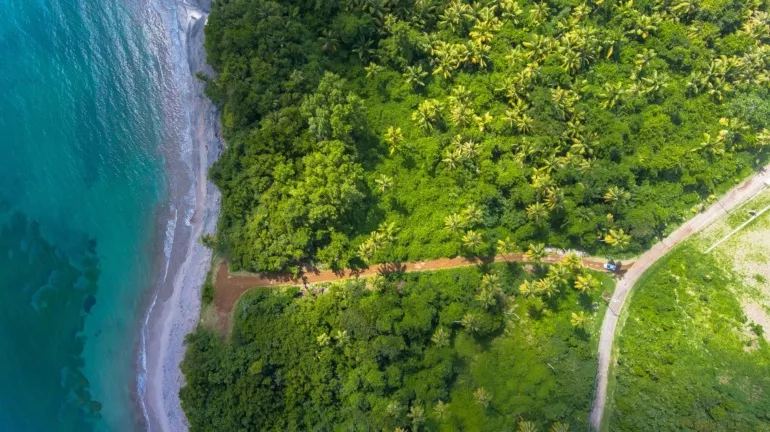 NET ZERO IS ONE OF THE MOST IMPORTANT GOALS OF OUR TIME — to avoid irreversible damage from climate change. But how are we going to reach a state where no additional greenhouse gases enter the atmosphere?
"Ich will Spass, ich geb Gas" (Put the pedal to the metal and have fun) is a German popular song from the 1980s that sings the praises of light-heartedness. If we look at the average carbon budget per person today, it is mainly the grandchildren of the baby boomers dancing at that time who will have to put on the brakes, if we want to achieve net zero by 2050. The need for transformative approaches and investments are therefore inevitable.

Carbon budgets are usually only talked about in connection with companies or countries, but this maximum amount can also be calculated for individual citizens. Carbon Brief, for example, published such an analysis using emissions data, population trends and climate models.

The result taking the following example: while King Charles III, born in 1948, still has a "lifetime carbon budget" of 807 tonnes for mobility, food, housing, etc., grandson Archie should only emit 83 tonnes — assuming the temperature increase is to be limited to 1.5 °C.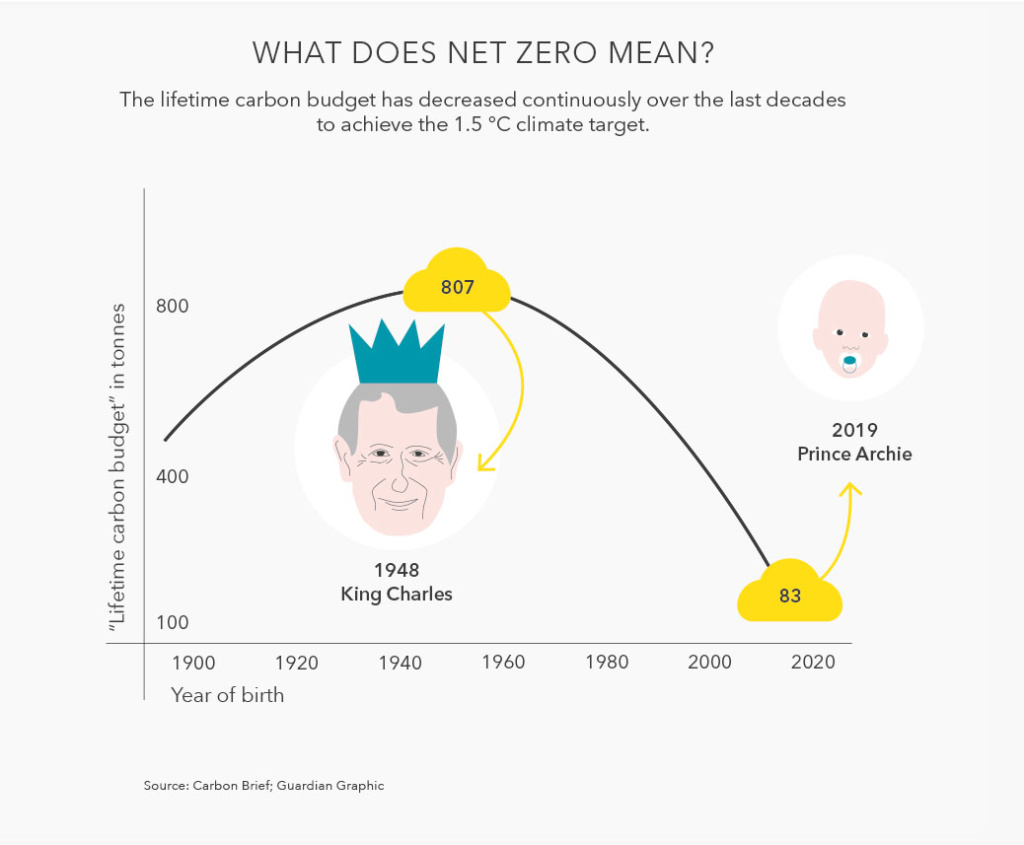 To ensure that the net-zero target by 2050 does not remain just a nice sounding dream and that such target budgets are not exceeded, emissions must be significantly reduced in the building sector, transport and industry in particular.
Net Zero Has Its Price
If we want to achieve these ambitious targets, a lot of capital has to be channelled in the right direction. The Bloomberg New Energy Finance 2023 calculations clearly show the investment needs that will have to be met in the coming years to achieve this target (see chart on the right). Annual investments in areas such as renewable energies, sustainable materials or electrified transport must already be tripled by 2030 compared to 2022. In the decade up to 2040, the volume will have to be increased fivefold to around USD 6,900 billion per year.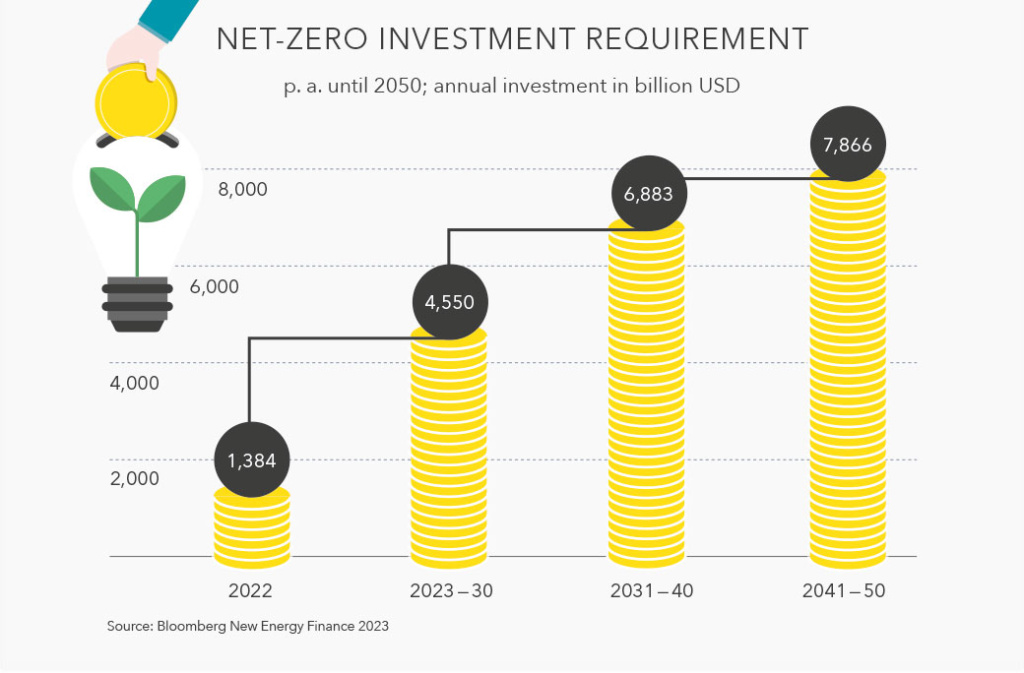 Changes in Materials and Closed Loops — a Duo for the Future?
While the energy transition is progressing and will make a major contribution to net-zero consumption, the advances in low-emission materials and the circular economy should also pick up speed. The production, use and disposal of industrial materials such as steel, aluminium, cement, etc. are responsible for almost a quarter of all global CO2 emissions. To achieve net zero, countries and companies will intensify both the introduction of environmentally friendly methods for producing these materials and the circular economy to optimise reuse.

Heidelberg could take on a pioneering role. The German city is preparing to become the first circular municipality in Europe. The "Circular City" pilot project is being driven forward with the help of the urban mining principle — a type of modern mining. A building material register turns the city's building stock into a raw material store. A programme developed by the EPEA environmental institute calculates and records the material composition of all properties. The quantity and quality of recyclable materials are already known for future building demolitions or refurbishments and can be planned into new projects. According to the EPEA, the raw material substance of buildings in Germany as a whole amounts to 15 to 16 billion tonnes — the "urban raw material stock" even increases to 29 billion tonnes if civil engineering is included. Closing the cycle in this way should not remain an isolated case. Other cooperation models are being considered.
The capital has to be channelled in the right direction.
Construction Must Go Greener
New production methods, emission avoidance technologies and closedloop recycling have already emerged in recent years. Existing companies had to rethink and start-ups were able to jump into completely new business models. For example, the young Swiss company and ETH spin-off neustark uses recycled concrete as a carbon storage, making it possible to significantly improve the climate footprint of new buildings — there is even talk of "net-zero concrete" from 2025. This could store the same amount of carbon that is released during production. The market for low-carbon building materials is changing, as are many other sectors. In addition to a pioneering spirit, improved financing, infrastructures and regulations will be crucial for introducing new technologies on a large scale — because this is how sustainability is turned into a design for the future.

The Globalance View
From an investor's perspective, decarbonisation is one of the greatest current investment opportunities. According to estimates by the International Energy Agency (IEA) and Bloomberg New Energy Finance, several trillion US dollars must be invested annually to achieve net zero by 2050. The majority of funding will come from the private sector. A good 70% of this will go to electrifying global transport and renewable energy, followed by grid infrastructure for power transmission and distribution, according to the latest outlook from BloombergNEF. For investors, now is the time to set the course and focus on companies, sectors and markets that will benefit from these developments. Investments that are in danger of becoming obsolete must be disposed of at the same time.
Do you want to set the course and focus on companies, sectors and markets that benefit from current developments? We look forward to hearing from you.
You can find more interesting topics and articles in our Futuremover magazine.