Awards & Recognition
BILANZ «Globalance as best private bank and long-time quality leader»
28.04.2023
Bilanz Rating

Investments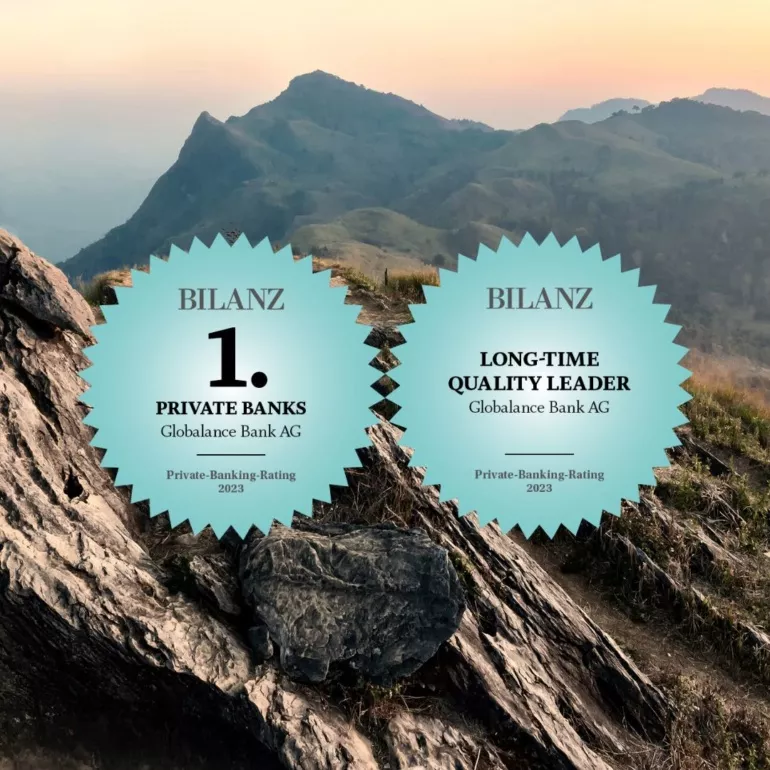 PRIVATE BANKING RATING 2023
The jury of the renowned business magazine BILANZ has decided: Globalance has been named the best Swiss private bank and a long-time quality leader.
BILANZ's annual private banking rating uses a mystery shopping approach and a very demanding investment case to determine the best investment specialists and private banking partners in Switzerland. In the 15th edition of the rating, the renowned jury examined around 110 competitors over a period of six months and analysed various criteria relating to client interaction, overall service, transparency, costs, risk disclosure and portfolio structure. Globalance convinced the jury with its very detailed investment proposal and its many years of expertise and was able to win the rating as the best Swiss private bank.
In addition to the top position for 2023, Globalance has also been included in the small circle of long-time quality leaders for the first time due to the continuously excellent performance already shown in previous years.
Globalance CEO and Founder Reto Ringger:
"We are very pleased with these awards from BILANZ and they confirm that it is not the size of the bank that is decisive for quality and client orientation, but innovation, future orientation and continuity. Globalance is one of the youngest banks in Switzerland and regularly achieves top positions in these rankings. An indication that agility, focus in the business model and a strong corporate culture are more important than company size and tradition."
You can find the best list of the BILANZ private banking rating here.