Awards & Recognition
Meaningful Business Award 2020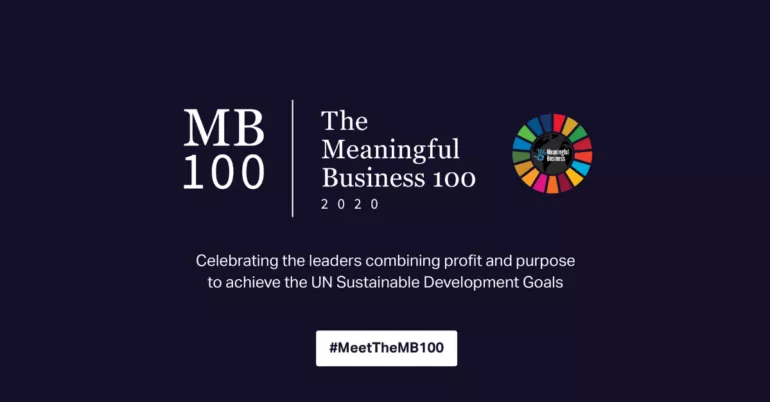 Reto Ringger, CEO & Founder of Globalance Bank, has also in 2020 joined the list of the world's 100 entrepreneurs, CEOs and executives of "2020's Meaningful Business 100".
IThe "Meaningful Business 100" only includes people from companies both large and small who pursue an effective business model that supports the United Nations' Sustainable Development Goals (SDGs). This global community of executives regularly exchanges knowledge and expertise.
Every member a role model who makes an impact with their own business model.
The 2nd edition of the MB100 was curated by an expert panel of 16 judges, following a global nomination process. The platform received over 500 nominations from 70 countries, with each one scored across five key areas: Impact, Leadership, Innovation, Durability and Scope.
The 100 business leaders include corporate CEOs, entrepreneurs, micro-entrepreneurs, sustainability leaders, functional heads and impact investors from 34 countries. Industries that dominate the list include agriculture, education, healthcare and technology.
Ever since his younger years, Reto Ringger has been convinced that sustainability and profit do not have to be mutually exclusive. In 1995, he founded SAM (now RovecoSAM), the world's first asset management company focusing on sustainable investments. In 1999, he persuaded Dow Jones to launch the Dow Jones Sustainability Index (DJSI). 20 years of experience in sustainable investing then culminated in the foundation of the Globalance Bank in 2011, an organization which epitomizes a paradigm change in the field of finance. For Reto Ringger, "Meaningful Business 100" is a special acknowledgment of his pioneering work and an inspiration for his future efforts.

«Meaningful Business 100»-Liste