News & Trends
Dematerialization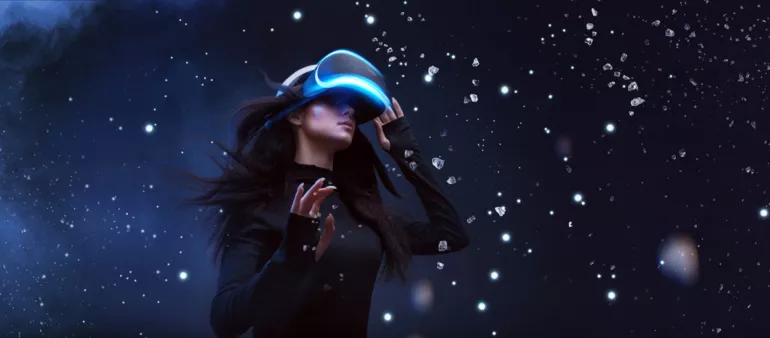 Software instead of "Hardware"
When did you last open an encyclopedia, look for a road map or print a plane ticket? Physical products are increasingly disappearing from our lives — dematerialization is not only in full swing, it's transforming our lives. Wikipedia is just a click away, Google Maps opens by voice command and the QR code for check-in is at hand.
Once expensive and unwieldy devices such as radios, cameras and navigation systems are now on our smartphone, fit in your pocket and are always available. Before you know it, for an old product is replaced by an uncomplicated app. More and more people are reading on "e-readers" and our children already know CDs only from stories. Instead, for 13 Swiss francs we now get access to Spotify and millions of songs. 20 years ago, we couldn't even buy a CD with 15 tracks for this amount. And video and DVD collections are giving way to Netflix and the other streaming providers.
Are you Still Leafing or Are you Already Wiping?
The sentimental thinking associated with the travel guide you used for your last road trip, the sand which still trickles from the book you read on your last beach holiday, and your proud presentation of our own vinyl records is in all of us. Socio-economically, however, dematerialization offers considerable opportunities. The reduction of value chains considerably reduces the amount of materials and energy that are consumed.
The ticket on the cell phone no longer requires paper, the printer is not necessary.
Toner is obsolete, production of individual parts and logistics are eliminated — the material cycle is relieved, resources are saved. More software instead of "hardware"!
We Only Know the Opening Act
Human perception and our imagination of what the future will be like is linear, but digital progress is exponential. This growth is difficult to grasp and leads to technological singularity, i.e. to a point in time when further technological progress cannot be predicted. If digitalization was compared to a concert, then after the sound check the support band would have just entered the stage, while the main act in the backstage area would not yet know which songs it would be playing. In the future, companies will have to study developments in an agile manner and react to them before they lose their competitiveness, while partners exploit the new potentials.
Easily Digestible for Humans and Climate
The 'food-as-software' model also has a dematerializing and transformative effect because it can replace the current animal agriculture system and lead to a 45 percent reduction of greenhouse gas emissions in this sector by 2030. Food is developed by scientists at the molecular level and uploaded to databases, and food designers can access it worldwide and produce products such as Cell-based Meat. To do this, animal cells that are genetically identical to conventional animal products are cultivated in a bioreactor. Et voilà — the sustainable and diverse alternative, freed from price fluctuations, is in place.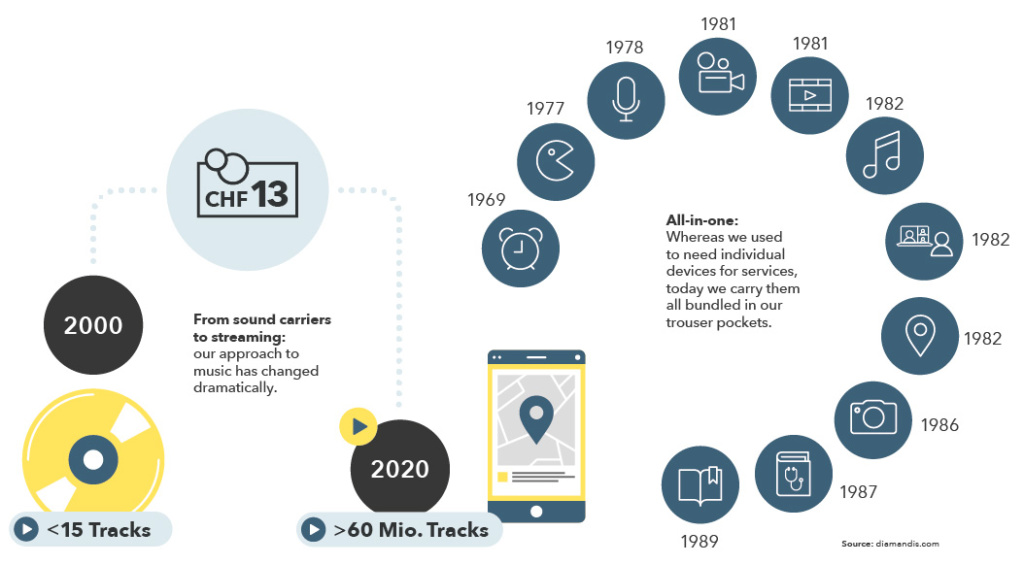 Augmented Reality (AR) and the Worry about the "Kodak Moment"
AR, augmented reality may change our interaction with the networked environment in the future. It creates a mixed reality between real and digital reality. AR provides us with additional information to existing real perceptions. These disruptive changes, combined with advances in 3-D printing and AI, will continue to drive dematerialization in the future.
From 220'000 to below 50'000
The market for industrial 3D print production is growing at a good 65% per year. A major advantage: 3D printing reduces complexity. An aircraft is currently being manufactured from 220'000 individual parts Using 3D printing, by 2030 this number will shrink to below 50'000.