News & Trends
Global Economy on the Path to Recovery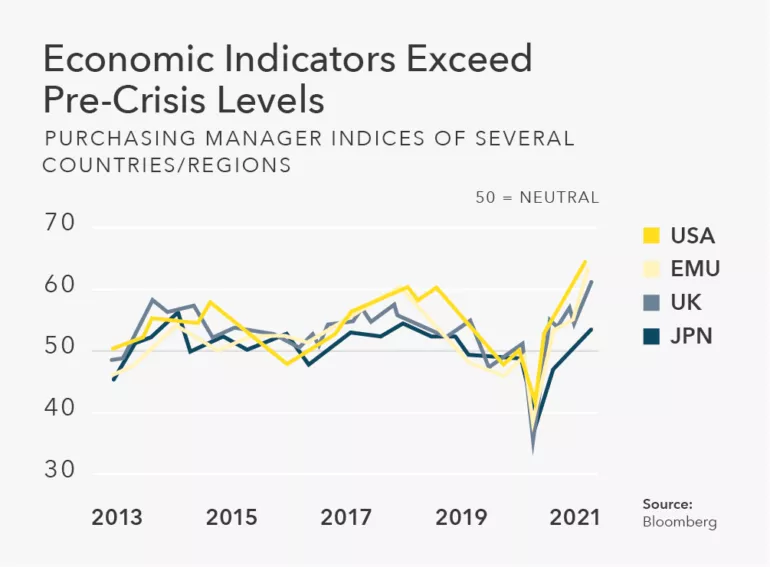 While the 2021 investment year is still affected by the global COVID-19 pandemic, key economic indicators did manage to take a significant turn for the better and have recently even exceeded pre-crisis levels (see the figure). Huge government stimulus packages and fiscal support created a fertile soil for the private sector, with the earnings of many companies significantly exceeding the expectations of analysts during the first two quarters.
Risky Assets Are the Winners
A positive economic environment coupled with hopes for a swift return to normality created a buzz in the international financial markets. The figure shows that it was particularly risky assets sensitive to the economic trends that were sought after in the first half of 2021. Commodities and stocks delivered the best returns, followed by real values and low-correlation investments. Government and corporate bonds, however, came under pressure and fell in the red.
Rising Interest Rates Cause Volatility
The recovery of the global economy has brought with it a sharp rise in interest, particularly during the first quarter: 10-year US government bonds shot up from 1 % to more than 1.6 % within just a few weeks. Interest rate-sensitive investments such as government and corporate bonds suffered significant price losses, but even the prices of growth stocks reacted with pronounced fluctuations in price. Although markets subsequently calmed down, rising interest and inflation rates pose residual risks to investors.
Globalance Portfolios Well Positioned
We adjusted our customer portfolios for growth in due time in November 2020 and increased the stock ratio above the long-time extent. At the same time, we downsized our investments that are sensitive to interest rates to a minimum and allocated any liberated funds to low-correlation investments. The latter proved to be a replacement for obligations and contributed positive returns, despite rising interest rates.
Significantly Better Climate Path
Globalance portfolios not only consider aspects like risk/return but also optimise dimensions such as climate, footprint and future-fitness. Our investments deliver a substantially better performance in these fields than comparable indices and portfolios. For more information, please visit www.globalanceworld.com