News & Trends
The (Dream of) Urban Living Space – How Grey Becomes Green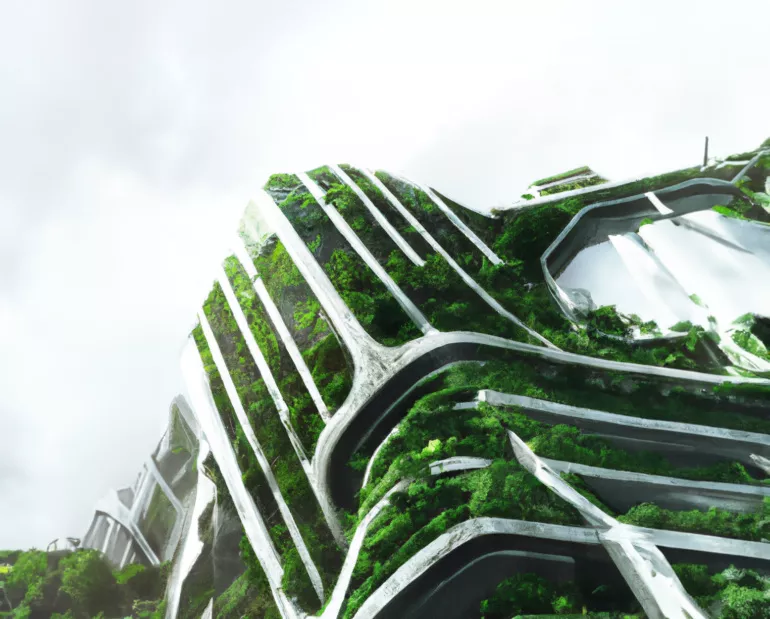 THERE CAN BE LITTLE DOUBT THAT THE TREND TOWARDS URBANISATIONIS CONTINUING — and that the same can be said of the effects of climate change. There is therefore no alternative but to take further action: our towns and cities must become more sustainable. But how can we create more biodiversity in urban areas, how can we generate electricity, and where can we store water?

The sight of greened facades on houses is no longer anything new. Vertical vegetation appears to be growing all over the world. In the heart of our large built-up cities, such developments are probably the most symbolic examples of the green transformation. Yet, biodiversity in urban areas can also be smaller in scale — and no less effective.
Five Trees for Biodiversity
Unsealed soil and interconnected spaces of greenery and water contribute to a functioning ecological infrastructure. This has also been recognised by the Swiss Confederation, which is developing reference provisions for greater biodiversity and a better quality landscape. It is also a goal that Japanese construction company Sekisui House has been supporting for several years with its "Gohon noki" project (the "five trees" initiative).To counteract the loss of flora and fauna and conserve biodiversity, Sekisui Houseplants five native trees foreach of its customers —three for birds and two for butterflies. In this way, more than 17 million trees have already been planted whichare ideally suited to the local climate and provide a home for animal species. With its "Gohon noki" concept, the company has promoted urban greening throughout Japan. In cooperation with several universities, Sekisui House has developed a quantitative assessment for its networking-based greening. The results are certainly impressive: the number of native tree species has increased tenfold in the three largest metropolitan regions of Japan. The number of bird species moving into residential areas has doubled — and the number of butterfly species has increased fivefold. We are familiar with green in height, we are now familiar with green in width as well.
We are familiar with green in height, we are now familiar with green in width as well.
Step-by-Step to Power Generation with a Difference
The greater the population, the greater the demand for electricity: it's logical. How can we manage the energy supply in our ever-growing megacities, though? If environmental scientist Vaclav Smil has his way, "decentralisation" will be the magic word. Instead of generating energy from large, centralised power stations, electricity should instead be generated locally and on a smaller scale. Photovoltaic systems etc. are, of course, suitable options. To shape the future in a positive way, however, more unconventional thinking is also welcome. One such example is kinetic tiles made from hard-wearing rubber.This innovation from English company Pavegen generates electricity whenever people walk on tiles. Wherethe tiles are laid out, as is the case at several British railway stations and London Heathrow Airport, electricity is generated through the pressure exerted whenever somebody steps on an electromagnetic coil. So far, enough electricity has been generated to operate info screens and mobile phone charging stations. At present, this technology is still quite expensive — one square metre of the tiles costs an average of EUR 5,000.At 8 watts, the energy generation per person and tile also leaves something to be desired, which is why these devices only make sense at heavily-frequented locations. Pavegen is rising to this challenge, however, and setting up a research laboratory to manufacture the tiles in amore sustainable, low-cost and energy-efficient way.

Benefiting from "Sponge Intelligence"?
For a long time, rainwater was considered to be waste water. Many towns and cities were therefore built to allow rainwater to drain away as quickly as possible. This is about to change, though. A development that has been implemented in Copenhagen is also to become a reality in Berlin — the change over to a sponge city. The rationale: the German capital should be able to store rainwater like a sponge, so that it is able to cope with both very heavy rain and droughts in the future. The precipitation should no longer simply disappear through the sewage system, but be collected locally and on site. This approach is becoming more and more widespread in new neighbourhoods. A housing estate with 5,000sponge-style homes, for example, is currently being built on the site of the former Tegel airport. In this respect, the construction of Europe's largest cistern by 2025 is certainly a coup. Existing urban spaces are mostly still sealed with concrete — in Germany alone, this currently accounts for 44 percent of urbanised areas. In addition to a targeted unsealing, the Berlin landscape architect who dreamt up the name "sponge city", Carlo Becker, recommends the "piggyback principle": if roads are dismantled during construction work, why not take the opportunity to redesign the gutters and recesses for superior infiltration at the same time? If 25 — 30 per cent of the city can be disconnected from the sewage system, the dream of the sponge can come true, and help Berlin stay cooler in hot weather, droughts and thunderstorms. If Min-Suh In-Tak, the architect and urban planner referred to in the article "Our Living Space in the Year 2033", is to enthuse about our ever greener smart cities in ten years' time, there can be no doubt that developments such as these — as well as an exceptional pioneering spirit — will be necessary.
The Globalance View
Urbanisation is, in a sense, a super megatrend: no other topic is at the interface of more megatrend issues than urbanisation. This is where the challenges of climate and energy, new mobility, digitisation, scarcity of resources and urban consumerism meet in a very confined space. The investment opportunities are correspondingly diverse, ranging from urban infrastructure, energy-efficient real estate and urban mobility to security concepts and vertical farming. The geographical dimension of this topic is also interesting from the investor's perspective. The 10 largest megacities are currently to be found in Japan, India, China, Bangladesh, Brazil, Mexico and Egypt.
At our events you will always find exciting topics around the megatrends. Take a look at our event page and register if you are interested.