News & Trends
Globalance & Nature Action 100: Together against the loss of nature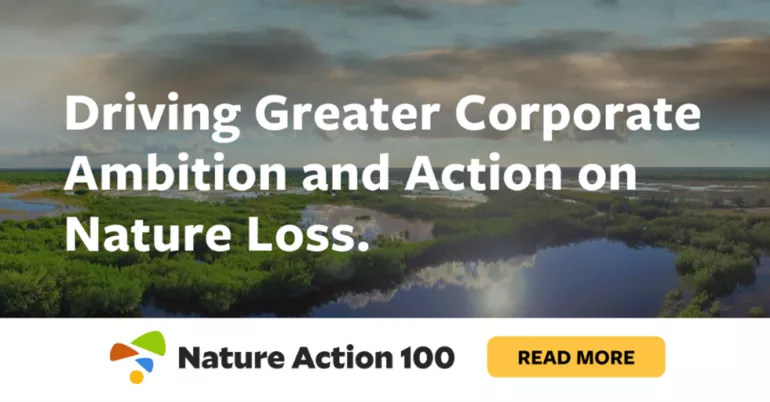 IN A GROUNDBREAKING MOVEMENT OF SHAREHOLDER ENGAGEMENT TO COMBAT THE GLOBAL LOSS OF NATURE AND BIODIVERSITY, "NATURE ACTION 100" PRESENTS A LIST OF 100 KEY COMPANIES. GLOBALANCE IS PART OF THIS MOMENTOUS COMMITMENT, WORKING CLOSELY WITH 190 INSTITUTIONAL INVESTORS WHO MANAGE $23.6 BILLION IN ASSETS TO ADVANCE ENVIRONMENTAL CONSERVATION.
"Nature Action 100," the first global investor shareholder engagement initiative to address the urgent crisis of global nature and biodiversity loss, has unveiled a list of 100 companies in key sectors. Here, 190 institutional investors with $23.6 trillion in assets under management or advisory are engaged.
Globalance is part of this unprecedented shareholder engagement and is actively engaged in protecting and restoring nature. Participating investors initiated the Nature Action 100 engagement process by sending letters to the 100 companies. These letters call for urgent and necessary action to protect nature and ecosystems to mitigate financial risks.
More than half of the world's gross domestic product depends on nature and its services. The loss of natural capital poses significant operational, regulatory, legal and reputational risks to both investors and businesses, and can have negative economic impacts worldwide.
The main goal of Nature Action 100 and its investors in this shareholder engagement is to promote greater entrepreneurial ambition and action in eight key sectors. These sectors are critical to reversing the loss of nature and biodiversity by 2030. The affected sectors include biotechnology and pharmaceuticals, chemicals, household and personal care products, consumer goods retail, food, food and beverage retail, forestry and paper, and metals and mining.
The selected 100 companies were chosen based on their market capitalization in key sectors and an analysis by the Finance for Biodiversity Foundation of companies with the greatest impact on nature.
Globalance looks forward to engaging with other investors as part of this shareholder engagement and reporting regularly on progress.

Would you like to learn more about the Nature Action 100 initiative (external website) or Globalance's shareholder engagement? Then click on the corresponding button.